Stand up for the facts!
Our only agenda is to publish the truth so you can be an informed participant in democracy.
We need your help.
I would like to contribute
"Arizona BANS Electronic Voting Machines."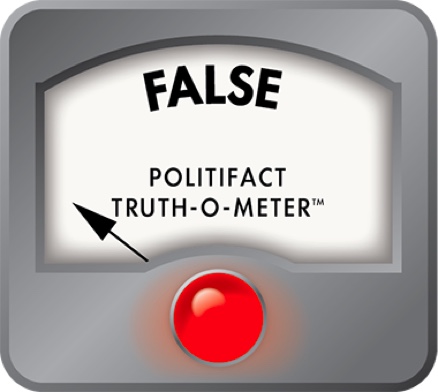 No, Arizona isn't banning electronic voting machines in 2024
If Your Time is short
The Arizona Senate passed a resolution to ban voting equipment made with foreign parts in March, but it does not have the power to override state election laws.

Any changes to election equipment would require a new law signed by the governor, who has previously vetoed similar legislation.

The theory that state lawmakers have complete control over how elections are run is based on a fringe constitutional interpretation.
Did Arizona, a hotbed for sketchy claims about elections and voting, ban the use of electronic voting machines for the 2024 presidential election?
That's what a viral May 23 Facebook video claims about the state and Dominion Voting Systems, which manufactures voting equipment. "Arizona BANS Electronic Voting Machines, Dominion Voting Says THEY ARE GOING UNDER," the video's title reads. 
In the clip, conservative commentator Tim Pool talks about a Senate concurrent resolution that House and Senate Republicans passed in March. It "prohibits" counties from using electronic voting systems with any parts made or tested outside the U.S. 
Democratic Gov. Katie Hobbs, a former secretary of state, vetoed similar, Republican-backed legislation, S.B. 1076, in April. Hobbs said the election equipment "required by the bill, as well as the problem it purports to solve, does not exist."
But Arizona's Republican Senate Majority Leader Sonny Borrelli sent a May 22 letter to all 15 state counties, telling them they were barred from using machines to administer future elections unless they met the requirements of the resolution, S.C.R. 1037.
Pool discussed Borrelli's claims in the Facebook video, claiming that the resolution overrides state law and that the U.S. Constitution gives state legislatures "plenary, or absolute, authority over elections "with no limitations." 
The clip was flagged as part of Meta's efforts to combat false news and misinformation on its News Feed. (Read more about our partnership with Meta, which owns Facebook and Instagram.)
Resolution was nonbinding
Arizona election officials and the state's attorney general said the resolution about voting machines is nonbinding and does not have the force of law. 
Adrian Fontes, Arizona's Democratic secretary of state, said the rules for election equipment are outlined in federal and state law and that federal and state officials certify it for election use.
"That certification process is being followed in Arizona and all applicable election equipment being used in Arizona is certified," Fontes said in a May 22 statement. "If those requirements or certification process were to be changed, it would require a regular bill to be passed by the legislature and signed by the governor — which is not the case for this non-binding resolution."
Citing cybersecurity concerns, the resolution said voting systems couldn't be used in federal elections in Arizona unless they were made in the U.S., accredited by the U.S. Defense Department, have a publicly available source code and make certain data publicly available within 24 hours of polls closing.
But this type of resolution merely expresses the sentiment of the legislative majority, experts said, and doesn't compel any action or supersede existing state law. 
Borrelli also sent the letter on his own, "independent" of Arizona Senate President Warren Petersen and others in the caucus, a spokesperson for Senate Republicans told the Arizona Mirror. 
"A single member of the Arizona State Senate cannot make laws or direct other divisions of government to take actions counter to state law," wrote Clint Hickman, the Republican chairman of the Maricopa County Board of Supervisors, in a statement. "Arizona law requires the use of tabulation equipment to count paper ballots. I'm supportive of sourcing machinery and components made in the United States, but until that is realistic, the Board of Supervisors will appropriate the dollars needed to acquire" certified equipment.
How does it target Dominion?
Pool brings up Dominion Voting Systems, the company targeted with baseless rumors that its machines had been compromised in the 2020 presidential election. In April, Dominion reached a $787.5 million settlement with Fox News in a defamation lawsuit. Dominion's CEO John Poulos recently told Time that the reputational damage it received is likely too severe to save the company.
Dominion machines are used in 28 states, including Arizona, and do not meet the resolution's criteria of having a publicly available source code, like many voting systems used in the U.S. 
Some election machine vendors say that making the source code available would weaken security, allowing hackers to get into the system. Advocates of the idea say publishing the code ensures quality and would make it easier to identify weaknesses and develop solutions.

When asked about engaging with open source, a Dominion spokesperson said in February that the company is "always open" to future product offerings that customers want but reiterated that its voting systems are secure and reliable as is.
The independent state legislature theory 
The idea that the Constitution gives lawmakers unfettered power over election policies is based on something called the "independent state legislature theory," the parameters of which are pending before the U.S. Supreme Court in Moore v. Harper, a North Carolina redistricting case. 
The theory is considered to be a radical interpretation of a constitutional provision that would effectively give state legislatures sweeping power to determine the "time, places and manner" of federal elections, with no checks or balances by the judicial or executive branches. 
The idea has been embraced by some conservatives, though many scholars agree it doesn't hold up to legal analysis.
"It's an uber-textualist reading of the Constitution," said Joshua Douglas, who teaches and researches election and constitutional law at the University of Kentucky. "State legislatures certainly should be bound by state constitutions, and other actors — like secretaries of state — have authority to regulate elections. It's also a dangerous theory that gives way too much deference to state legislatures."
The Supreme Court is expected to weigh in on the independent state legislature theory in June.
Barry Burden, director of the Elections Research Center at the University of Wisconsin-Madison, said the idea of unbridled legislative control over elections "is not an established precedent" and that an earlier Supreme Court case out of Arizona established that the Legislature doesn't have unilateral power to determine election policies.
Experts said Borrelli's letter creates more confusion and fuels attempts by some leaders and election officials to hand-count ballots.
Our ruling
A Facebook video claims that Arizona banned electronic voting machines.
What the Legislature wants and what election officials will do are different things. The resolution at the center of this claim is considered a statement of the Legislature's opinion and does not carry the weight of law.
Election equipment must be certified under federal and state law requirements, with any changes requiring a bill to be passed and signed by the governor. Hobbs vetoed legislation that would have changed state election laws.
We rate this claim False. 
CLARIFICATION, June 1: This article was updated to clarify Dominion's stance on open source codes.
RELATED: Ask PolitiFact: What is independent state legislature theory, and could it create election chaos? 
Facebook video, May 23, 2023
Timcast.com, Arizona BANS Electronic Voting Machines, May 23, 2023
Timcast.com, Dominion Voting Expects To Fold Despite Historic Payout In Fox News Settlement, May 22, 2023
AZsos.gov, Statement from Secretary Fontes on Senate Concurrent Resolution 1037, May 22, 2023 
Arizona Mirror, Citing 'plenary powers,' GOP leader claims a non-binding resolution bans Arizona election machines, May 22, 2023 
Votebeat Arizona, Arizona isn't banning machines to count ballots. Why a top senator's declaration means nothing, May 23, 2023 
Arizona Legislature, SENATE CONCURRENT RESOLUTION 1037, March 2023 
Arizona State Sen. Sonny Borrelli letter, May 22, 2023 
Cornell Law School, ArtI.S4.C1.3 Congress and the Elections Clause, Accessed May 26, 2023. 
Election Law Blog, The (unsteady) origins of the Plenary Presidential Elector Selection Power Doctrine, June 10, 2022 
SCOTUS Blog, Moore v. Harper, Accessed May 30, 2023
Democracy Docket, After the North Carolina Supreme Court Reversed Itself, Elected Officials and Experts React, May 5, 2023  
Oyez.org, Arizona State Legislature v. Arizona Independent Redistricting Commission, June 29, 2015
Email interview, Jason Berry Maricopa County communications manager, May 24, 2023
Email interview, Barry Burden, political science professor and director of the Elections Research Center at the University of Wisconsin-Madison, May 25, 2023
Email interview, Joshua Douglas, teaches and researches election law and voting rights, civil procedure and constitutional law, May 25, 2023
Browse the Truth-O-Meter
More by Samantha Putterman
Support independent fact-checking.
Become a member!
In a world of wild talk and fake news, help us stand up for the facts.